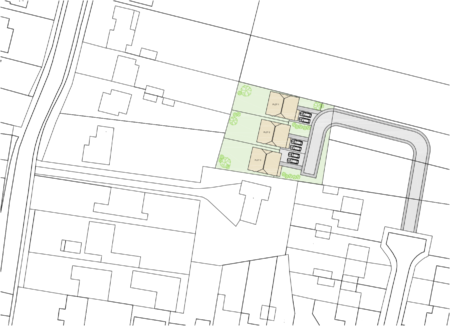 We are pleased to announce planning permission has been granted for three detached dwellings within West Kingsdown, near to Brands Hatch under Sevenoaks District Council.
The application site was part of the applicant's large garden within a built-up area. Previously the applicant was able to achieve construction of a new single dwelling upon the land, which was not easy. Since this time, the applicant had also purchased a further piece of land beside their garden, and therefore they instructed Patrick Durr Associates to develop the site as a whole.
Following a site survey, and understanding the restraints of the property, we were able to design a three dwelling scheme with a new access and proceeded to a pre-application meeting with the Council.
The pre-application Council meeting was supportive of our design and access, however it did highlight the noise risk of the nearby Brands Hatch race track.
As such, we instructed a noise consultant to undertake a noise survey at the site and advise on noise attenuation features for the development.
As a team we were then able to submit a full planning application for the new development which complied not only with local and national policy, but also WHO guidance.
The applicant was extremely pleased to be granted the three additional dwellings, which is a successful 'back land' development for Patrick Durr Associates.
If you believe you may have a similar development, or a large garden within a built-up area please Contact Patrick Durr Associates without delay!