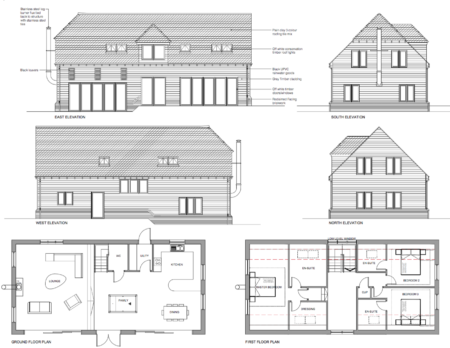 Patrick Durr Associates has successfully achieved a beautiful new-build barn dwelling with ancillary building following the applicant's very rocky start, under Wealden District Council.
The applicant owned an agricultural barn near Lower Dicker, set within approximately nine acres of land. Correctly, the applicant looked to use the recently published permitted development rights (PDRs), allowing the conversion of an agricultural building to residential use. The applicant submitted this application under another planning consultancy, and unfortunately permission was refused. Unfortunately, the main reason for refusal was that the barn was not in sole agriculture use when it was inspected by the Council and therefore it failed to qualify the PDR.
The applicant contacted Patrick Durr Associates, understandably concerned that this refusal ceased any future residential development at the site under the PDR provision.
Following an initial telephone discussion, Patrick Durr Associates was able to understand the history of the building, its current use, and the reasons why there was currently a mixed equestrian/ agricultural and storage use of the building. With this information, we were able to identify that the Council had incorrectly refused the application on a technicality and it should have in fact have been approved.
Patrick Durr Associates then wrote to planning management at Wealden District Council highlighting the officer's error and proposing an alternative way forward. Instead of proving that the Council was wrong through a Planning Appeal which would waste significant costs and time, instead we proposed that the applicant be allowed a new-build dwelling in lieu of the existing barn.
It is important to note that Wealden District Council offers a very useful Supplementary Planning Guidance (SPG) allowing qualifying agricultural buildings, which would normally utilise the PDR for conversion of the building to residential use, to instead propose a demolition and new-build proposal under the standard planning application process. This is a much welcomed approach and leads to better, more purposeful developments in line with national policy requirements.
Following our correspondence, the Council were very accommodating and agreed to our mutually beneficial plan.
After several pre-application meetings the applicant was able to submit an impressive new dwelling scheme with separate carport and accommodation above, designed by Alex Rayner of Level Architecture (www.levelarchitecture.co.uk).
Thankfully, despite a few small issues raised during the Council's assessment, the application was approved at Planning Committee with no votes against the scheme. In fact, a number of Councillors commented how the design was in-keeping with and enhanced the local area.
All in all, this was an excellent example of helping an applicant achieve an enviable outcome from what was a very unsatisfactory beginning. It also emphasises the importance of achieving the correct professional advice at the right time to avoid unnecessary stress, time and cost.
If you are considering a new development project, be sure to Contact Patrick Durr Associates from the beginning.