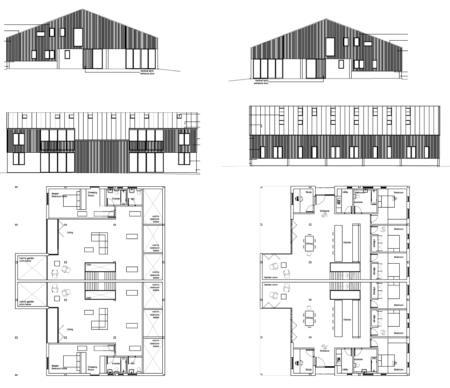 Planning permission has been granted for exciting external changes allowing a barn conversion near Marden, under Tunbridge Wells Borough Council.
An applicant approached Patrick Durr Associates, having already achieved a Class Q Prior Approval for the change of use of an agricultural building to form two semi-detached dwellings. Unfortunately, when the applicant submitted the second part of this two-part procedure, for the external changes needed (windows, doors etc.), the Council refused these. The reasons for refusal were that part of the proposed changes were outside the remit of the Class Q permitted development provision, whilst other works, in the Council's view, were in excess of those allowed under the Prior Approval process.
Consequently, the applicant appeared to be stuck, having permission to live in the agricultural barn, but not to physically convert it to allow living there.
In this situation, Patrick Durr Associates suggested a way forward whereby the applicant used their change of use permission (already allowed), and combined it with a new standard planning application for the external changes which they had proposed. A standard planning application allowed for the full breadth of changes which the applicant required, however, under a standard planning application, each change must be justified and be specifically in line with local and national planning policy.
Taking this idea forward, we worked with the applicant's architect to ready a modern design which, with our experience, we believed was reasonable. Once this was complete we undertook an extensive pre-application meeting with the Council to moot the proposed changes. Following this, we took on board a number of Council comments, amended the scheme, justified the proposal and submitted a new application.
Thankfully, with very little issues during the application assessment, the scheme was approved by delegated powers.
Consequently, this now allows the applicant to undertake both the physical and use changes, providing two statement country dwellings. An excellent result all round.
Please contact Patrick Durr Associates if you are stuck with a planning conundrum, or equally if you have a permitted development conversion and you are unsure how to proceed.