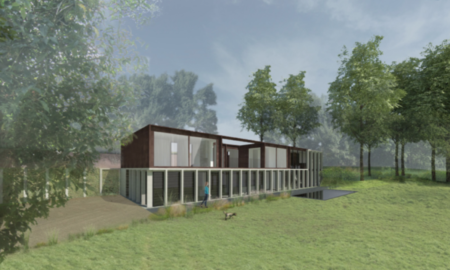 After a prolonged journey, we have successfully achieved a stunning replacement dwelling near Goudhurst, under Tunbridge Wells Borough Council, fit for Grand Designs!
The applicant purchased the beautiful site with planning permission for a generic replacement dwelling scheme already extant. The applicant and their family wanted to compliment the stunning location with an exciting design, away from the routine and ordinary. Despite this aim, the site was situated in a rural location and within the High Weald Area of Outstanding Natural Beauty and therefore any proposal needed to note the sensitive location.
Initially, the applicant instructed an architect alone to forward the scheme, and following a pre-application meeting with the Council, significant issues were highlighted. As such, Patrick Durr Associates was instructed to work alongside the architect to address the Council's concerns where possible and hopefully realise the applicant's dream.
We were able to advise on potentially acceptable size and design changes, and also recommend the use of other consultants required for this type of application, including landscape architect and ecologist.
Following this new approach, a second pre-application meeting was held with the Council which was extremely successful, and therefore we proceeded on to submission of a full planning application.
During the assessment there were a number of issues raised by the Council and consultees. which we were able to address quickly. This accepted, unfortunately we ran into concerns regarding bats, but luckily had already instructed a bat emergence survey to be undertaken which eventually alleviated these also. Usually, a planning application Council assessment should take eight weeks, however due to the questions raised and Council workload delays, the application took nearly 6.5 months!
In spite of this delay, we were delighted to eventually forward a planning approval for this architecturally striking design by Ph+ Architecture (www.phplusarchitects.com) to the applicant.
This application serves as a lesson in planning patience and ensuring you have the right team around you from the start. We are delighted to have been involved in such a fantastic project with such an exciting, modern brief.
If you are considering a development out of the ordinary, please Contact Patrick Durr Associates.