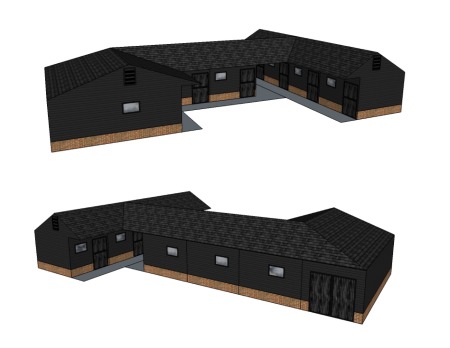 We are pleased to announce another equestrian development approved near Cranbrook, under Tunbridge Wells Borough Council.
The clients are keen equestrian enthusiasts with multiple successes in dressage and showing. Following the purchase of a top-class Grand Prix Dressage prospect, who is hoped may make the Olympics, the clients required complete redevelopment of their existing equestrian facilities to continue producing and competing their successful horses.
Patrick Durr Associates were able to provide a number of suitable plans, including an American barn option, however ultimately the clients preferred a high quality traditional stable block with custom features.
The proposed plan included eight block-built stables as well as ancillary stores and a covered farrier bay. In addition to this a new storage barn was proposed and an extension to the client's existing manège in order to create a full sized dressage arena (60m x 20m). Through careful design and active client participation we were able to provide this bespoke, functional scheme and we were pleased that the Council supported the application without incident or delay.
Our clients can now continue their equestrian success with the upgraded facilities. Perhaps Patrick Durr Associates have provided planning services for a future Olympic Gold Medal winner? Time will tell!
If you have an equestrian planning project, please do not hesitate to Contact Patrick Durr Associates for advice best suited to your needs.